Books

 

"Child of Satan, Child of God"

Susan's 1977 autobiography, titled "Child of Satan, Child of God" (the title was not Susan's choice) went out of print in the 1980's.  We have been able to have it reprinted and made available through Amazon.com.  The new printing contains  eleven new pictures not in the original printing, as well as a new cover .


Chapter 1 - Manson

I gasped for breath and felt the dampness of perspiration across my lower back. Standing for a moment inside the door of the big brown house, I heard the pounding of my heart. There was a slight ringing in my ears. I was stoned.

The hallway was darkening in the late afternoon. No one was in sight. Faintly I heard music. ?Someone?s singing,? I thought. I exhaled noisily, then stood still and listened. Somebody was singing upstairs. Delicate guitar patterns formed around the voice. I wondered. ?No one here plays like that.?

I waited, and my eyes adjusted to the dimming light. ?Where is everyone?? I heard myself ask. My scalp suddenly tingled, and I felt goosebumps rise on my bare arms. Maybe the police had beaten me back to the house. They were really hot after Tom. I smiled. I had given them some chase.

Now what? I climbed the stairs slowly, my bare feet silent on the carpeting and my short skirt swishing barely audibly back and forth across my thighs. I turned to the left at the top of the stairs. The music came from the big living room. Passing through the massive, oak doubledoors, I was startled. My eyes landed instantly on a little man sitting on the wide couch in front of the bay windows. The fading sun?s rays slanted through the partly opened curtains behind him, throwing his features into shadows. But I could see he was singing, his eyes seemingly closed. Without moving his head, he opened his eyes and stared directly into my face. I stared back.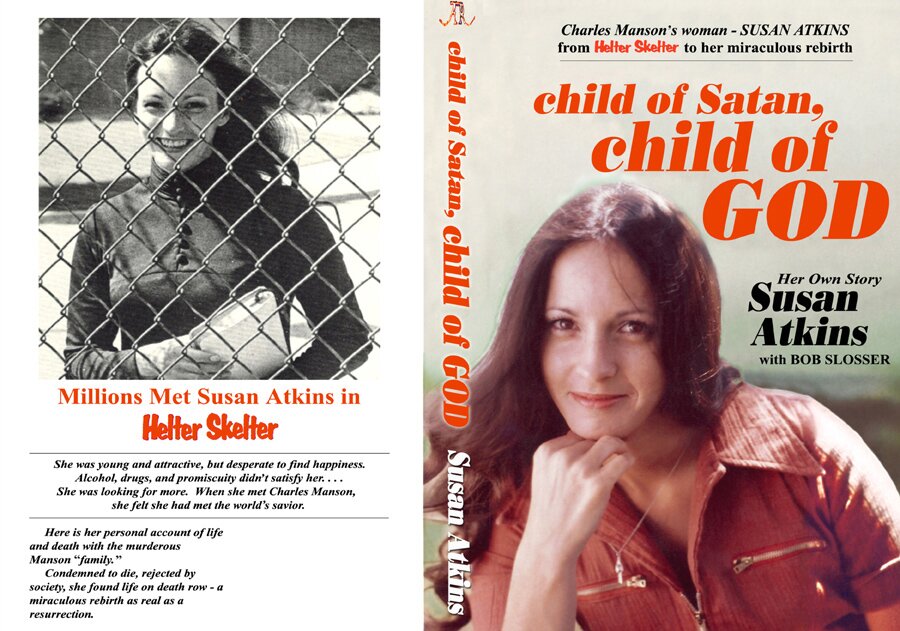 Click here to find "Child of Satan, Child of God" on Amazon.Com
---
"The Myth of Helter Skelter"
This book was made in response to the constantly changing and evolving stories told by the District Attorneys over the years.  The idea was to document what Susan saw not just during the summer of 1968 to the fall of 1969, but during her trial as well.  This was a particularly distasteful subject to Susan and she only consented in the hope that it would help to dispel the misconceptions about the case and make it less a subject of obsession to misdirected young people.
In hopes of making this something more than merely another (possibly self-serving) version of this story, every attempt was made to corroborate as much of what Susan was saying with citations to the accounts by the District Attorney and other credible documentation.  
Chapter 1 - The Slow Easy Road to Disaster
At the age of thirteen my mother was diagnosed with inoperative cancer and I ?inherited? a family of five.  I would come home from junior high school and begin cooking, cleaning, and washing for my father, two brothers, myself and my bed-ridden mother.  I was also the one who had to give my mother the morphine shots as she slowly passed away over the next twelve months.  Upon her death my father increased his drinking until eventually, around my sixteenth birthday, he left one day and never came back, abandoning me and my younger brother to fend for ourselves.
By the age of nineteen I?d survived a series of nightmarish episodes to finally find a moment of stability among a group of people living in San Francisco in the counter-culture environment.  At the time this was not a terrible place to be.  Janis Joplin lived next-door.  Mama Cass of The Mamas And The Papas taught me how to make BLT?s.  We were not ?deviants,? we were part of the artist subculture of the era.
That brief moment of stability ended when my friend Ella-Jo and I came home one day to find my place empty ? my boyfriend had been arrested and once again I found myself completely broke and on my own.  After three long years of fighting to survive and find some stability I was right back where I?d started.  I didn?t even have a place to sleep.
But Ella-Jo said it was okay, I could stay with her.  And that?s when I met a group of her friends who were all going down to Los Angeles for the summer.  Ella-Jo said it ought to be great.  She said I?d already met one of the guys - he had an old school bus and they were going to just pack it full of people and head off.
It sounded good.  It was the summer of 1967.  Young people were moving around and hitchhiking about the country.  I?d been in San Francisco for a year or two and the prospect and starting over from nothing again didn?t sound very compelling.  How bad could a summer trip to L.A. be?
Hindsight is always perfect - I should have stayed in San Francisco.
---
"The Dove's Nest Newsletters"
The  Dove's  Nest  Newsletters is a collection of 62 Christian newsletters written by Susan between 1996 and 2002, while incarcerated.  Susan was born again in 1974 and spent the rest of her life fulfilling the Great Commission - to bring the Word of the saving Grace of our Lord and Savior Jesus Christ to the world.


| | |
| --- | --- |
| ?The Spirit of the Lord is upon me; because the Lord hath anointed me to preach good tidings unto the meek; he hath sent me to bind up the brokenhearted, to proclaim liberty to the captives, and the opening of the prison to them that are bound; To proclaim the acceptable year of the Lord, and the day of vengeance of our God, to comfort all that mourn.? Isaiah 61:1-2 | |
Dear Steve,                                                                                     
Greetings in the Precious Name of Jesus Christ, my Savior, Lord and soon coming King of Kings.
Thank you so much for writing and for your interest in my life. Many write to me for a variety of reasons.  Unfortunately, I am not always able to respond to every letter due to the volume of mail I receive and the limited amount of time I have available to answer letters.
As in every prison in California now, each prisoner is required by law to work eight hours a day.  I?m also required by the Board of Prison Terms and Parole to fulfill their requirements for suitability for parole.  This doesn?t leave me with a lot of time.  Thus, after much prayer and consideration, I believe that this is the Lord?s answer to meet my desire not only to respond to those who want to write to me, but also to share with those outside the prison walls the wonderful things God has been doing in my life here in prison.
In September of 1974, Jesus knocked upon the door of my hardened, lost, embittered heart.  I accepted Him as my Personal Savior and Lord that night.  He assured me then in the depths of my soul that ?old things had passed away, behold all things have become new,?  II Corinthians 5:17  ?Therefore if any man be in Christ, he is a new creature; old things are passed away, behold all things are become new.?  I left my past and all its sins and failures and embarked upon a new life with Jesus Christ of Nazareth.  That was 29 years ago.  I do not live, nor dwell in the past which brought me to prison, and would encourage you to do likewise, as I do not answer questions in relation to that period of my life.  The Bible clearly states in Hebrews 8:12, ?For I will be merciful to their unrighteousness, and their sins and their iniquities will I remember no more.?
I will share with you that since I have been incarcerated these past 26 years, I?ve not only accepted Jesus Christ as my Savior and Lord, but I?ve also acquired my G.E.D., obtained an Associate of Arts degree in General Education, finished two vocational training programs in Data Processing and Word Processing, obtained certification as a Paralegal, completed a course in Christian Counseling, and am now finishing up my Bachelor of Arts degree in Human Behavior.  I?ve worked within the prison in a number of different types of jobs, including everything from clerical positions and secretarial work, to jobs in the prison laundry and textile factory.
I am currently working as a receptionist/clerk in the Mental Health Reception Center of the prison.  It?s a wonderful opportunity to share my faith with women who come to prison for the first time and want to know why I always smile.
I live my life here in prison just the way I would were I free.  I attend church services, work, and am involved as a volunteer in several different ?self-help? organizations throughout the prison.  These organizations are not just geared to better the women here in the prison, but hopefully also encourage the women to successfully reenter and become a functioning part of the community upon their release.
I continually share the good news of the Gospel of Jesus Christ with my fellow prisoners by witnessing to them about what Jesus has done in my life.  I also live the life that Jesus Christ taught us we could live through Him and in Him, to the best of my ability.
I have been very happily married to the most wonderful man in the world for the last fifteen years, and my husband and I spend as much time as possible together when we are allowed, twice a week.  Just because our present circumstances are different than most married couples, it doesn?t mean that it?s impossible to have a wonderful marriage.  As my precious husband once told me, ?great people aren?t born, they are made by overcoming the challenges they face in life.?  It?s with his wonderful assistance that I?ve been able to finally write letters like those shown on the Dove?s Nest website.
Through the years, I?ve been studying the Bible and have learned a great deal as I?ve yielded my heart and life to Jesus Christ.  I?ve longed to share many of my life lessons with those who are interested, and now I believe I can.  I?d like to share with you, if you will allow me, some of the wonderful things I?ve been blessed to learn and grow from.  Each month, I try to write about a different subject, with Biblical references, meditations and insights.
If you would like to receive these letters, I?ll be more than happy to send them to you.  They are letters from my heart to yours.  It is my hope that they will encourage you, give you hope, and help you strive to be the very best you that you can be.  It doesn?t matter what your ?station? in life is, it only matters WHOSE you are, and WHO you choose to serve in this life.
Just as God didn?t create me without a purpose, so too, He made you for a purpose, and placed within you all the talents and gifts necessary to fulfill your purpose.
Many people through the years have offered to send me money to establish a ?ministry,? as they have called it.  Please understand this about me, although I sincerely appreciate the sentiment that type of caring represents, I have been living according to the following verse for over 22 years now: ?But my God shall supply all your needs according to His riches in glory by Christ Jesus.?  Philippians 4:19.   I can not accept any money.  The envelopes and stationary for these letters are a gift to me from The Dove?s Nest, and any money received will be sent back.
I would count it a privilege and a joy to be welcomed into your life, to share the Glory of God and His love towards us on this earth, through His Son, Jesus Christ.  If you don?t know Jesus as your personal Savior, I?d like to encourage you to get to know Him, personally, the same way I did ? by inviting Him into your heart, and by accepting His free gift of Eternal Life.  He forgave me all of my sins, and has granted me PEACE, JOY, and LOVE.  In this world I?m sure there is nothing of deeper value.  Jesus has taught me through the years how to love the unlovely and unlovable, beginning with myself.  He has comforted me when I felt the most desolate and lonely.  He has healed me, spirit, soul, and body.  If He?s done all these glorious things for me, a convicted felon, how much more can He, and will He, do for you.
The Bible says, ?That if thou shalt confess with thy mouth the Lord Jesus, and shalt believe in thine heart that God hath raised him from the dead, thou shalt be saved, For with the heart man believeth unto righteousness; and with the mouth confession is made unto salvation.  For the scripture saith, Whosoever believeth on Him shall not be ashamed.?  Romans 10:9-11.  You do the confessing and believing, and God will do the saving.  It is my prayer and hope that should we never meet in this world, we will meet in the Presence of my Savior and Lord, Jesus Christ.
If you would like to be put on the mailing list for my monthly letters, please write me, or the Dove?s Nest, and tell us.  It?s completely free and I?d love to share the Word of our Lord and Savior, Jesus Christ, with you!  
I remain, your faith-filled and grace-filled sister in Jesus Christ.
[Another of Susan's 1996 letters is included in the "Newsletters" section of this website.]